Food Distribution Program
Congratulations to Dan and Terrence for being recognized as the 2022 OMB Employee(s) of the Year! And, THANK YOU to the entire Food Distribution team!
Government Support Services' Food Distribution section administers the USDA food commodity distribution program in Delaware. This program distributes food commodities to eligible schools and other child nutrition programs, elderly feeding programs, and to emergency feeding organizations serving the needy. In response to emergencies and catastrophic situations, the Food Distribution section will serve as the primary agency for nutritional resource and distribution.
The USDA program has a dual mission: to provide children and needy families a more healthful diet and to maintain support for domestic agriculture markets.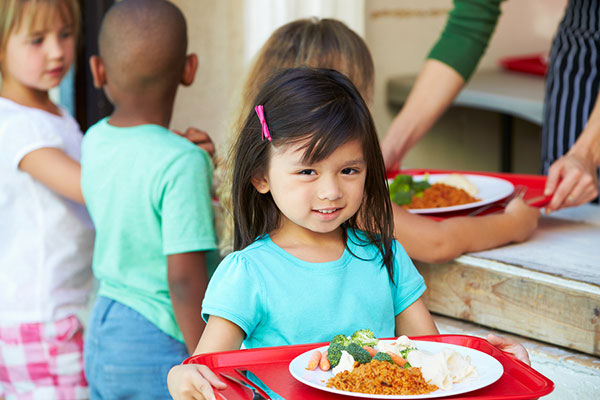 Types of commodities vary by program, but include a variety of nutritious foods. By law, USDA acquires agricultural commodities to provide nutritious high quality commodities to assorted programs and needy families.
National School Lunch Program (NSLP)
The NSLP is designed to provide a nutritionally balanced meal for children attending public or private nonprofit schools and residential child care institutions (RCCIs). Participating RAs receive commodities for eligible meals served. The School Breakfast Program (SBP) operates under the same eligibility criteria as the NSLP.
Summer Food Service Program (SFSP)
This program was established to ensure that needy children would be able to receive meals during the summer months similar to those provided during the school year by the NSLP.
Nutrition Services Incentive Program (NSIP)
This program was designed to help improve the nutritional well-being of people over the age of 60. In Delaware, cash or commodities are provided for congregate meal sites and meals on wheels programs.
The Emergency Food Assistance Program (TEFAP)
This program makes available surplus and supplemental foods to the homeless and needy households distributed through a network of shelters, soup kitchens, food banks and other emergency feeding organizations.
The Commodity Supplemental Food Program (CSFP)
The CSFP works to improve the health of elderly people age 60 years and older. CSFP participants must meet federal and state eligibility criteria in order to receive monthly food packages. Please contact the Food Bank of Delaware to access a local benefit issuance site.
USDA Non-Discrimination Statement (English and Spanish)